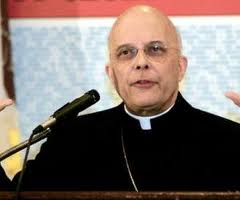 DE PERE, WI (WTAQ) - Graduates and faculty members at St. Norbert College showed lingering resentment over having Catholic Cardinal Thomas George of Chicago as their commencement speaker.
Many wore rainbow-colored ribbons on their gowns Sunday, in a show of support for gay people.
George was heavily criticized last December when he expressed concerns about the route of Chicago's annual gay pride parade. He feared that the gay liberation movement would, "morph into something like the Ku Klux Klan, demonstrating in the streets against Catholicism."
That spurred an online petition to St. Norbert officials in De Pere, asking that they not let George speak at the school's commencement. But College President Thomas Kunkel said no to the request. He said the school welcomed a variety of opinions.
The Green Bay Press-Gazette said about three-fourths of the school's faculty and a quarter of the 469 graduates wore the gay-support ribbons on their gowns.
George did not address the controversy during his talk, and he did not speak with reporters. But the student speaker, Joanna Holzhaeuser of Ashland, told the grads to include people of different sexual orientations, gender, and race – and to avoid apathy in their human interactions.