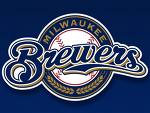 MILWAUKEE (WTAQ) - Diamondbacks second baseman Aaron Hill became just the second player to hit for the cycle twice in one season in more than 80 years, leading Arizona to a 9-3 win over the Brewers Friday night.
Hill had accomplished the rare feat 12 days previous. His first 3 hits – a double, single and home run – came off starter and loser Randy Wolf. Wolf game up 7 earned runs in 4 innings.
Ian Kennedy earned the win for Arizona, allowing 6 hits and striking out 7. He fanned five Brewer batters in a row at one point.
Aramis Ramirez drove in Milwaukee's first run on a grounder in the first. That gave the Brewers a 1-0 lead which didn't last long.
Cesar Izturis knocked in a pair with a double in the 6th.
Brewers and Diamondbacks sqaure off again Saturday in Game 2 of their weekend series. Pregame on 97.5/1360 News Talk WTAQ begins at 5:40 p.m., with the first pitch at 6:15 p.m.