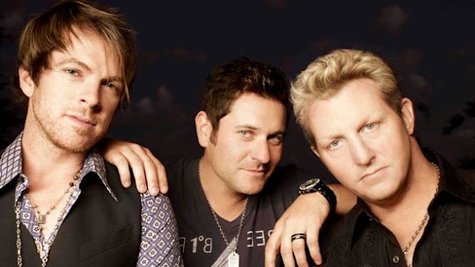 Rascal Flatts launches their Changed tour Friday in Hartford, CT with Little Big Town , Eli Young Band and Edens Edge in the supporting slots. All the acts on the bill actually got together at Flatts member Jay DeMarcus 's home studio earlier this year to record a version of Grand Funk Railroad's hit "We're an American Band." That recording is now available through Rascal Flatts' mobile app.
During that recording session, all the groups got to know each other better before the tour launched. Jay DeMarcus tells ABC News Radio, "They seem really excited about going out with us, and we're sure as heck really thrilled to have them out with us."
This is the first time Rascal Flatts has toured with no solo acts in the opening spots. Jay says, "We wanted to do an all-bands thing for a few years, just timing never felt right, but we're excited."
The members of Little Big Town have known the guys in Rascal Flatts for several years now, and Little Big Town's Jimi Westbrook predicts some crazy times backstage after the show. He tells ABC News Radio, "It's gonna be fun. It is gonna be complete debauchery." Jimi's wife and band mate Karen Fairchild quickly steps in and reminds Jimi all the members of Little Big Town have kids on the road these days.
"The debauchery ends around 10:30 when we have to make sure that our little ones are still down," Karen says. "In the summertime when the sun goes down later, it's so hard to get the babies [down]. They hear the music, and they want to watch all the acts."
Eli Young Band front man Mike Eli is looking forward to what will happen when all the bands get together on the road. He says, "Having that many artists in one room is gonna be pretty interesting."
Edens Edge is the newest act on the bill, but they've gotten to know all the other bands pretty well so far. Lead singer Hannah Blaylock is especially grateful to Rascal Flatts for welcoming them into the country music fold.
She tells ABC News Radio, "They're just such good people, and I could say the same about Eli Young Band and Little Big Town. We're really pumped to be out on the road with all of them. We're gonna learn a lot for sure."
Edens Edge will be performing songs from their brand-new, self-titled debut album in stores this week.
Rascal Flatts' Changed tour continues through an October 27 show in West Palm Beach, FL.
Copyright 2012 ABC News Radio