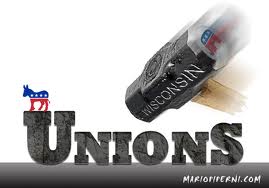 MADISON, WI (WTAQ) - Wisconsin's largest state government union will continue to have its present leadership, after a failed attempt by prison guards and others to win top posts.
Dan Meehan narrowly lost a bid to become the vice president of the State Employees Union at its convention over the weekend.
Meehan told the Wisconsin State Journal that some members are still upset about the union's early endorsement of Kathleen Falk for governor. And guards are especially upset, saying that union executive director Marty Beil didn't do enough to fight the Walker administration's move to limit a pay and seniority system for guards to get overtime.
Meehan says his fellow prison guards don't believe they have a voice anymore.
Beil says passionate debates and elections are part of life in a democratically-run union. And he says emotions are understandably high after Governor Scott Walker survived the attempt to recall him.
Paulette Feld was re-elected the State Employees Union's president. And Leah Lipska was elected vice president.