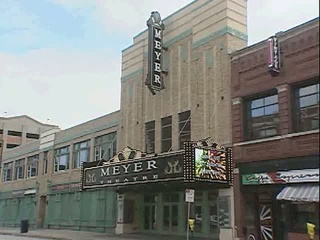 GREEN BAY, WI (WTAQ) - It's slated to be a mix of music and comedy during the 2012-13 season at the Meyer Theatre in downtown Green Bay.
The full season package of 5 shows is on sale now for $200. Season tickets may be purchased by calling (920) 676-8883.
Individual event ticket sales will begin on Friday, September 14 at 11 a.m.
Shows include:
Under The Streetlamp - Friday, October 19, 8 p.m.
Under the Streetlamp is a new vocal group that delivers classic hits from the American Radio Songbook. The group will sing and dance to your favorite Doo-Wop, Motown, and old time Rock 'n' Roll hits from The Drifters, The Beach Boys, The Beatles, The Four Seasons, and more.
Three Dog Night - Friday, November 9, 8 p.m.
Three Dog Night's hits include "Mama Told Me (Not To Come)," "Joy to the World," "Black and White," "Shambala" and "One."
Mindi Abair - Thursday, January 24, 2013, 8 p.m.
Saxophonist/Singer/Songwriter Mindi Abair continues to define the less traditional future of jazz. Her own brand of pop and soul meets jazz adds a refreshingly unique voice to an exciting new generation of crossover artists.
John Pinette - Friday, March 8, 2013, 8 p.m.
When describing his own stand-up, comedian John Pinette says "I talk about my life; it is the funniest thing I can think of."
Joan Rivers - Saturday, March 30, 2013, 8 p.m.
Comedian, TV host and CEO Joan Rivers is an icon of American culture. She is a best-selling author, Emmy Award-winning talk show host, Tony-nominated actress, Celebrity Apprentice winner, writer, director and savvy businesswoman who has overcome great odds to reinvent herself and her career time and time again.