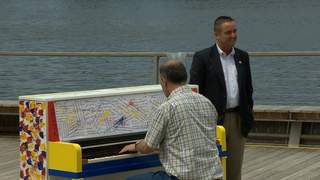 GREEN BAY, WI (WTAQ) - Street performance is about to be brought to Green Bay's CityDeck on Mondays.
Maestro Monday will offer visitors a chance to play a street piano on the deck during lunchtime.
Officials say the idea comes from cities like Paris and New York where residents and visitors can find open pianos across the city to play and enjoy.
"There's so much talent here in Green Bay, and it's just an opportunity to showcase your talent and really connect with the community and enjoy the music and the CityDeck," Green Bay Mayor Jim Schmitt tells FOX 11.
Maestro Monday will run through the end of August.