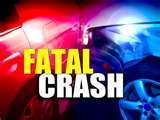 KIEL, WI (WTAQ) - A crash in Manitowoc County leaves two people dead and two others injured.
The Wisconsin State Patrol says it happened on Highway 57 at Little Elkhart Lake Road near Kiel around 9:30 p.m. Saturday.
Authorities say an SUV going north on a southbound lane of Highway 57 hit a car headed south driven by 22-year-old Andrew Hoefler who is an officer with the New Holstein Police Department. One of the SUV's passengers, a 32-year-old man from Sheboygan, also died at the scene.
The car's driver and the other passenger, both from Sheboygan, were flown to Theda Clark Hospital with life-threatening injuries.
The crash remains under investigation.