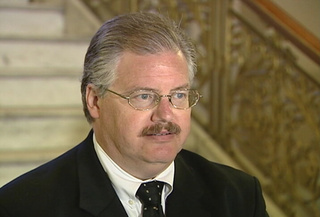 MADISON, WI (WTAQ) - A hearing examiner has proposed a reduced punishment for Ken Kratz, who sexually harassed women while he was Calumet County's district attorney.
The state's Office of Lawyer Regulation has asked the Supreme Court to suspend Kratz's law license for six months. But after a hearing last month, special referee Robert Kinney has asked the court to consider a smaller suspension of four months.
Kinney, a retired judge from Rhinelander, said six-month suspensions are generally given for more serious conduct – and he said Kratz is not likely to offend again.
Kratz says he should only get a formal reprimand. He said he has suffered enough, and he should get a chance to get a fresh start as an attorney.
Kratz has admitted violating the state's code of judicial conduct. His case first came to light in 2010, a few months after he tried to strike up an affair with a domestic violence victim by sending her racy text messages.
His charges also included allegations that he made sexual remarks to other women.