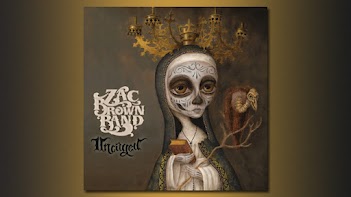 Zac Brown Band 's latest album, Uncaged , debuts at #1 on the Billboard 200 chart this week with 234,000 copies sold. Fans who picked up the album have noticed the somewhat cryptic Day of the Dead-inspired cover art. It was painted by New Mexico-based painter Brandon Maldonado , and Zac says, "I'm a big fan of what he does."
Zac and the rest of his band mates didn't want to just plaster their photo on the cover of the album. He says, "You see all these different faces and everybody trying to be cool. We just figured we'd pick something that we really like a lot."
Zac points out the painting does have something to do with the album title, Uncaged , since it depicts an old bird out its cage. The lead single from Zac Brown Band's new project, "The Wind," is now climbing the country chart.
Copyright 2012 ABC News Radio