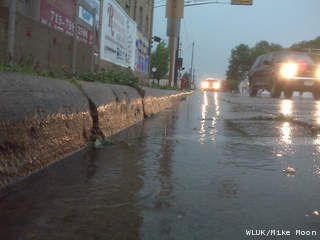 GREEN BAY, WI (WTAQ) - Wisconsin is getting more rain than it's had in a long time.
The National Weather Service said Wausau set a new rainfall record for Thursday with 1.6 inches between 1 and 4 a.m.
The same system brought 1.4 inches to Ashwaubenon.
Wednesday, 2.7 inches of rain fell at La Farge in southwest Wisconsin. Dodgeville had 2.2 inches. Racine and Kenosha had just over 1.8 inches. And Madison and Milwaukee had around an inch.
In many cases, the rain came so quickly that it ran off instead of soaking in – and that doesn't help farmers who've been hit hard by this summer's drought.
One National Weather Service official said greener lawns would be the biggest beneficiaries.
Thursday, isolated thunderstorms are moving out of east central Wisconsin. And then forecasters expect dry weather into the weekend, with a slight chance of rain Friday.