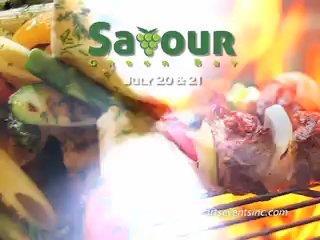 GREEN BAY, WI (WTAQ) - Foodies and hungry folks will descend on downtown Green Bay starting Friday for Savour Green Bay.
Arts Events Inc. Executive Director Tina Quigley says in the inaugural event last year, they drew an estimated 5,000 people. Quigley hopes this year's version will do even better, with the addition of demonstrations.
"We're really excited about being able to introduce two demonstration stages to the event this year," says Quigley. "It's a great opportunity for people to learn some helpful hints and techniques...so it'll be very interactive."
Quigley says a select group of 12 area restaurants, along with local wineries and breweries, are involved. They wanted to put a focus on locally sourced food.
"Restaurants that provide menu items that use locally owned and even organic ingredients," says Quigley.
Those participating include China Palace, Chives Restaurant, Fajita Republic, Hagemeister Park, Hinterland, Monzu Bistro, Mustard Seed Cafe, Pasquale's, Republic Chophouse, St. Brendan's Inn and Titletown Brewing Company.
Admission is free, as is all culinary demonstrations. Food and beverage items are available for purchase. It runs Friday from 4 to 10 p.m. and Saturday from 11 a.m. until 9 p.m.
You can find out more information here.