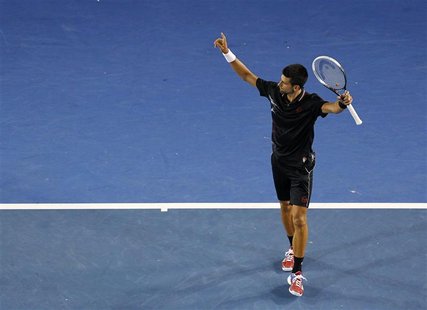 By Greg Stutchbury
MELBOURNE (Reuters) - David Ferrer has moved almost unnoticed into the quarter-finals of the Australian Open but world number one Novak Djokovic knows the serious threat the Spaniard will pose Wednesday.
The fifth-seeded Ferrer has been shunted on to the outside courts in his four matches so far at Melbourne Park, attracting little attention despite coming into the tournament having already won the Auckland Open.
"In my eyes David Ferrer and every player, especially the ones from the top, are great competitors and I have lots of respect toward them," Djokovic said when asked if too much focus had been on the top four of himself, Rafa Nadal, Roger Federer and Andy Murray.
"I think sometimes they're under-rated. Especially Ferrer, who has been so consistent, he's been a top five player for a long time."
The winner of the match will face either Murray, or Kei Nishikori, who is the first Japanese to reach a grand slam quarter-final since Shuzo Matsuoka reached that stage at Wimbledon in 1995, in the semi-finals.
Women's second seed Petra Kvitova, who has played three of her four matches so far on Rod Laver Arena will open the day's proceedings on the main show court when she meets the unseeded Sara Errani for a place in the semi-finals.
The tall left-hander, who has received the nod of approval from 18-times grand slam champion Martina Navratilova, is within sight of the women's world number one ranking although that she is preferring to concentrate on winning the title.
"A lot of players could be number one at the end of the tournament but everything is speculation," she told Reuters. "It should really wait until after this tournament."
Former world number one Maria Sharapova could also regain the top ranking, though she must at least make Saturday's final but first needs to overcome the unranked Ekaterina Makarova, who destroyed Serena Williams in the fourth round.
(Editing by Martyn Herman)