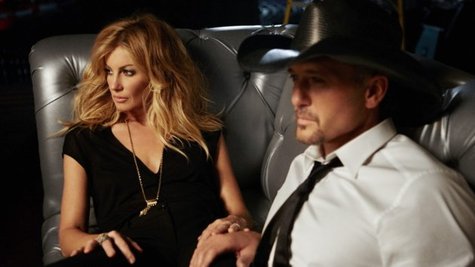 Tim McGraw and Faith Hill bring their Soul 2 Soul concert to The Venetian in Las Vegas starting Friday night for a limited run through April. They're only playing select weekends due in large part to their three daughters' hectic school and extracurricular activities.
"I know this is really hard to believe, but literally the Venetian has the school schedule," Faith says. "We built this show around that schedule."
Fans can expect a state-of-the-art show featuring Tim and Faith on stage together the entire time, and Faith expects their daughters will be with them for most of the shows. Though they planned the concert dates around the kids' school schedule, other random events may still come up.
Faith says, "You can have a school schedule a year in advance, but then when they start doing the sporting activities, well all of that schedule comes in daily, and then you're like, 'Oh my God!'"
While Faith explains that 70 percent of their time planning their careers has to do with their kids' schedules, Tim jokes that he's really not all that involved in that aspect of it.
"All of you who are husbands and have wives know that I didn't spend 70 percent of my time in front of the schedule. She does!" he says with a laugh.
Tim and Faith will have some very special guests in the audience opening night. The Venetian is hosting several wounded military veterans and their families this weekend, and Tim and Faith's Friday night show is a big part of their experience according to the Las Vegas Sun .
For concert dates and ticket information on Soul 2 Soul at The Venetian, go to TimandFaith.com .
Copyright 2012 ABC News Radio