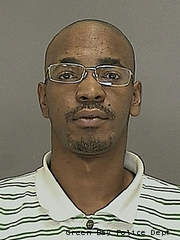 GREEN BAY, WI (WTAQ) - Police in Green Bay say they've arrested a man suspected of being involved in a number of thefts from vehicles and garages.
28-year-old Daniel Harmon was taken into custody during a traffic stop Monday night.
Police believe Harmon is tied to several thefts near Red Smith Elementary School on July 21st.
Investigators say Harmon and others used stolen credit and debit cards to make purchases at several stores immediately after the thefts. No charges have been filed against Harmon at this time.
Police hope to make additional arrests.
Anyone with information about the thefts is asked to call the Green Bay Police Department at (920) 448-3208 or call Crime Stoppers at (920) 432-STOP.