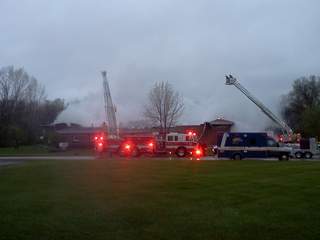 NEENAH, WI (WTAQ) - Firefighters battle a huge blaze that destroyed a Neenah business Friday morning.
The call goes out just after 4:30 a.m. to Futek Forms, Tags and Labels at 540 Discovery Drive.
"The smoke was blowing right in our faces," Neenah-Menasha Fire Chief Al Auxley told FOX 11. "The wind blew the fire right into the warehouse, and it was pretty intense with a lot of fire and smoke."
The roof of the business collapsed. Officials don't believe there are any injuries and don't know how the fire started.
"It looked like a huge glow from the distance," Marques Holewinski, who used to work at Futek, told FOX 11.
"I just work down the road and I came outside to see what was going on, just a big glow," Holewinski said. Holewinski said Futek makes a lot of tags and labels, he also says there is a lot of paper inside the building.
Fire crews expect to be on scene the rest of the day.