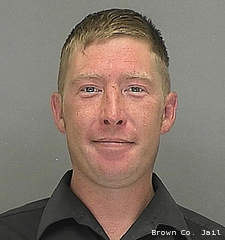 HOWARD, WI (WTAQ) - A man from Howard has been arrested after Brown County Sheriff's say he shot his dog.
Authorities get the call around 2:30 a.m. Saturday to an apartment complex on Lavender Lane for a report of gunshots.
When they arrived, 35-year-old Nevin Cain told deputies he came home to discover the dog had urinated in the apartment. Cain said he was, "trying to put the dog down."
Deputies smelled a strong odor of alcohol coming from Cain, who was also slurring his speech and walking unsteadily.
Cain told officers he shot and hit the dog one time with a 9mm handgun, then shot and missed several times. The dog had an apparent gunshot wound to its neck, but was still alive.
The year-and-a-half-old hound mix, "Missy," was taken to an animal hospital. Veterinarians were able to save the dog's life and it is recovering at a foster home.
The Village of Howard has taken on the cost of the dog's medical care, currently at $1,300. Anyone interested in helping pay for the dog's treatment can send checks made out to the Village of Howard to 2456 Glendale Ave., Green Bay, WI 54303.
A note on the check should indicate either "Animal Control" or "Missy."
Cain is expected in Brown County court Friday, but has not yet been formally charged with any crime stemming from the incident. Cain was arrested on charges of endangering safety by use of a dangerous weapon and mistreating animals.