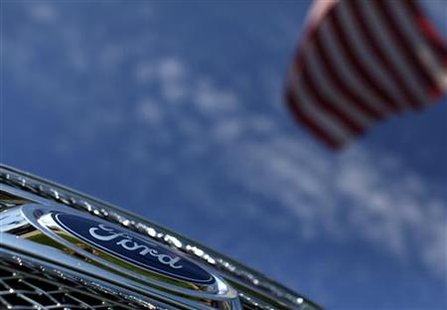 By Ben Klayman
DETROIT (Reuters) - A proposed contract with the United Auto Workers and General Motors Co neared ratification on Tuesday with more than half of local bargaining units reporting workers had voted in favor of the four-year deal.
Ratification of the GM deal which includes bonuses instead of hourly wage increases would clear the way for the union to complete negotiations with GM's cross-town rival Ford Motor Co. UAW-Ford talks are expected to yield a proposed contract this week.
A daily update for UAW members by Ford negotiators on Tuesday night said only that talks continued and that there were no major developments to report.
The GM contract expected to be ratified by voting that ends on Wednesday is the first for 48,500 GM hourly workers represented by the UAW since the automaker's 2009 bankruptcy and restructuring.
GM executives set a conference call with Wall Street analysts for Wednesday afternoon to explain the financial implications of the contract for the first time.
The deal would add or save more than 6,000 U.S. factory jobs, raise wages for entry-level workers and pay each worker at least $11,500 in bonuses over the life of the contract.
The deal would also leave GM's break-even point unchanged and allow the automaker to tackle the risk of its underfunded pension plan, one of the few issues left unaddressed by the restructuring directed by the Obama administration.
GM Chief Executive Dan Akerson, speaking at a conference in New York on Tuesday, said, "When we went into this labor negotiation, we were very focused on that. We could not do anything to negatively bias our break-even point."
UAW President Bob King joined the Ford talks this week, and the focus shifted to the tough economic issues, UAW officials said.
Teams of negotiators for the union and Ford, the only U.S. automaker to avoid bankruptcy, have been meeting for about two months. Financial issues typically are addressed in the final stages of negotiations.
The union began an intense focus on Ford last week, a day after the UAW, failing to finalize a deal with Chrysler Group LLC, extended its contract with the Fiat SpA-controlled automaker until October 19.
Observers are watching the talks for signs of how flexible the UAW will be in adjusting contract terms to the different financial positions of the three Detroit automakers.
CHRYSLER TALKS
While UAW officials said on Monday they expect "to have good news for our membership by the end of the week," Chrysler talks are progressing at a much slower pace. Those talks continued on Tuesday, a Chrysler spokeswoman said.
Winning a contract deal could be most difficult at Chrysler, the smallest and most fragile of the Detroit automakers.
Chrysler, which nearly collapsed two years ago, is still executing its own financial turnaround and trying to change public perceptions of its vehicle lineup. The company emerged from bankruptcy protection with a high debt load of $7.6 billion in government loans.
In May, Chrysler repaid those loans through a refinancing that helped cut its interest payments, but effectively swapped government loans with private ones.
As a result, Chrysler is eager to hold down its fixed costs beyond the 2015 expiry of the contract now being negotiated.
Last week, Chrysler CEO Sergio Marchionne told reporters in Italy that Chrysler workers should not expect to match the package proposed at GM, adding that GM and Chrysler are "two completely different entities."
As of Tuesday evening, at least 26 UAW locals for GM plants had voted for ratification and three had voted against it, according to Reuters interviews and a tally by a union dissident group. There are about 50 union locals voting on the GM pact.
The GM plant with the most workers, in Kansas City, Missouri, voted 57 percent in favor of the proposed pact, local union hall officials said.
(Additional reporting by Bernie Woodall, Deepa Seetharaman and Meghana Keshavan in Detroit and Nadia Damouni in New York; editing by Maureen Bavdek, Andre Grenon and Bernard Orr)