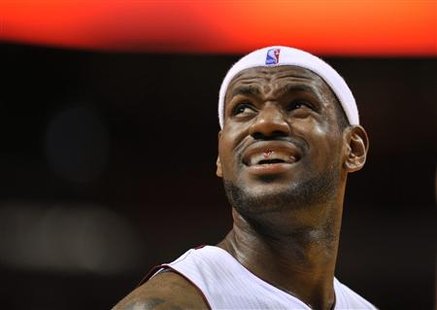 By Simon Evans
MIAMI (Reuters) - After all the hype, LeBron James and the new-look Miami Heat finally got on a basketball court, starting their pre-season schedule with a comfortable win on Tuesday and no shortage of fanfare.
Miami's 105-89 victory over the Detroit Pistons was soured somewhat as All-Star Dwyane Wade left the game early with what appears to be a minor hamstring injury.
But James and Chris Bosh, the other two members of Miami's "Big Three", showed glimpses of the talent Miami assembled in the off-season to transform into NBA title contenders.
When James went through his pre-game ritual of throwing a handful of powder overhead to create a dusty white cloud, the roar from the anxious home crowd confirmed this was no ordinary warm-up game.
James clearly felt the same as he played with noticeably more intensity than is expected from what are usually low-key, meaningless encounters.
"There definitely was (more intensity), I think everybody has been waiting to see us, to see what we have been doing in practice and then bringing it to a game setting," said James, who scored 18 points.
"I was anxious to get on the court. It is something I have been waiting for all summer, it was great, the reception from the fans was awesome."
Twelve of James's points came in the first quarter, with the final two coming from a powerful dunk after a fierce spin which he celebrated with a huge wave of his arms.
The off-season was dominated by James's free agency, his deliberations, his decision and the fallout from the manner in which he handled his departure from the Cleveland Cavaliers.
James never looked comfortable in the media glare, from his much criticized and televised announcement that he was "taking my talents to South Beach", to recent comments that race may have been a factor in the backlash against him, and the forward has won few friends with his off-season words and actions.
But he is clearly adored in South Florida where fans are hoping the NBA's two-time reigning most valuable player can lead the team to their first NBA title since 2006.
"You can tell it's an exciting time for this city," James told reporters before the game, and certainly the buzz outside the venue was anything but typical for a pre-season game anywhere, let alone South Florida.
Predictably the car parking prices were up, double in some cases, and it was clear from the crowds waiting for the venue to open that Heat merchandise has been selling well.
It was somewhat surprising that the arena was mostly empty when, 12 minutes before the tip-off, the leading trio of James and fellow All-Stars Wade and Bosh ran on to the court with their team mates.
But Miami folk do not count punctuality among their main qualities and the venue soon filled with a crowd that surpassed the number achieved for many regular season Heat games in recent years.
While Heat fans showed their appreciation for James, it was clear that they were made up mostly of longer-term supporters since the biggest cheer of the night was for established Heat player and local boy Udonis Haslem.
The celebratory mood was dampened somewhat when Wade left the game after three minutes with a hamstring injury. He was treated briefly courtside before leaving for further treatment on his right hamstring and he did not return.
That cut short the time Miami's "Big Three" spent together on the court, but LeBron looked like a man who had missed the game during the off-season.
He was aggressive, driving, dunking and scoring on 9-of-18 shooting with four assists and three rebounds in 27 minutes before leaving late in the third quarter.
Bosh had a game high 20 points along with six rebounds and one assist in 26 minutes while Wade had two points.
It was a welcome appetizer from James and the new Heat but they know the real business starts October 26 against the Celtics in Boston in what is one of the most highly anticipated NBA season openers in years.
(Editing by Frank Pingue)