« back to Movies
Texas Chainsaw 3D
Release Date: Jan. 4, 2013
Genres: Horror, Suspense/Thriller
Cast: Alexandra Daddario, Dan Yeager, Tremaine Neverson, Scott Eastwood, Tania Raymonde, Shaun Sipos, Keram Malicki-Sanchez, James MacDonald, Thom Barry, Paul Rae
Directors: John Luessenhop
Official Site: http://www.texaschainsaw3d.com/
Distributor: Lionsgate Films
The film continues the legendary story of the homicidal Sawyer family, picking up where Tobe Hooper's 1974 horror classic left off in Newt, Texas, where for decades people went missing without a trace. Decades later and hundreds of miles away from the original massacre, a young woman named Heather learns that she has inherited a Texas estate from a grandmother she never knew she had. After embarking on a road trip with friends to uncover her roots, she finds she is the sole owner of a lavish, isolated Victorian mansion. But her newfound wealth comes at a price as she stumbles upon a horror that awaits her in the mansion's dank cellars. In 3D at select locations.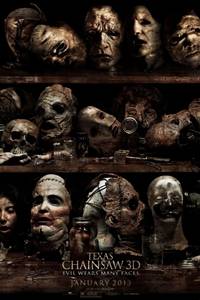 Show Times / Buy Tickets
There are no current showings for Texas Chainsaw 3D in this area.