Fire Over the Fox 2013
The countdown to Fire Over the Fox 2013 is on!
Join Us For A Day Of Fun, Food, and Fireworks
Fire Over the Fox is a daylong celebration of our nation's independence that takes place in Downtown Green Bay. Join us for a great day of fun featuring many stages of entertainment including music, patriotic ceremonies, and veteran salutes.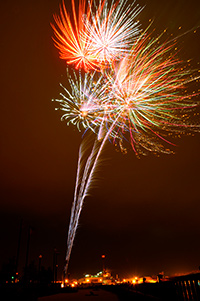 There will also be fantastic food and beverage, children's rides and entertainment, ski shows on the Fox River!
The day's event's culminate with the Festival Foods Fireworks, the areas largest and most brilliant fireworks display, set to music!
Festival Foods Fire Over the Fox has something for everyone no matter the age, so there's no reason not to come out.
We hope to see you out there!
Stage Event Schedule
Check out all of the great entertainment options lined up for the day, including Annex, Red Clover Band, Red Light Saints, the Waterboard Warriors, and more!
WIXX Stage, Powered by Scene Events Stage (CityDeck on the Fox River)
| Time | Event |
| --- | --- |
| 1:00pm | Local DJ Showcase (local and regional DJ's spinning today's hottest music) |
| 4:00pm | WIXX-Factor (see local singers and bands compete live!) |
| 8:00pm | Jacob Fannin (from Season 3 of TV Show "The Sing Off") |
Y100/Nicolet National Bank Stage (Leicht Memorial Park)
| Time | Event |
| --- | --- |
| 2:30pm | Red Clover Band |
| 6:00pm | Diamond & Steel |
93 Rock Stage (Leicht Memorial Park)
| Time | Event |
| --- | --- |
| 3:00pm | The Cougars |
| 4:00pm | Johnny Wad |
Kewaunee Power Station Family Stage (Neville Public Museum)
| Time | Event |
| --- | --- |
| 1:30pm | Randy Peterson |
| 2:00pm | Wisconsin Johnson & Friends |
| 2:30pm | Randy Peterson |
| 4:15pm | Randy Peterson |
| 4:45pm | Waterboard Warriors Ski Trick Show |
| 5:30pm | 484th U.S. Army Show Band |
Rockerchix Stage Washington Street (Hagemeister Park)
| Time | Event |
| --- | --- |
| 1:30pm | Tapping of the Firkins |
| 2:00pm | Head Games |
| 3:45pm | Boxkar |
| 5:30pm | Hierosonic |
| 6:45pm | LA Velvet |
| 8:00pm | ANNEX |
Titletown Brewing Company Stage (Fox River between Main & Walnut)
| Time | Event |
| --- | --- |
| 3:00pm | Waterboard Warriors Waterski Show |
Banana's Cabana Hagemeister Park Stage (CityDeck on the Fox River)
| Time | Event |
| --- | --- |
| 4:00pm | Bad Habitz |
| 5:45pm | Red Light Saints |
| 8:00pm | Shaker and the Egg |
WFRV-TV Stage (CityDeck on the Fox River)
| Time | Event |
| --- | --- |
| 4:00pm | Local 5 News at 4 |
| 4:30pm | 484th U.S. Army Band |
| 5:00pm | Local 5 News at 5 |
| 6:00pm | Local 6 News at 6 |
| 8:00pm | Fireworks Night in Northeast WI |
| 8:30pm | 484th U.S. Army Band |