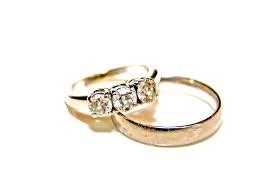 Is this a good reason not to wear her wedding ring?  A new study (from comparejewellery.com) has found that in "certain situations" one in three women decide to remove their wedding or engagement rings.
What kinds of situations are bringing so many women to take off their bands? The number one reason seems to be fear of damaging their employment or job. Apparently being married can be a red flag to employers that it isn't long before babies start getting away of work.
The top 3 reasons women took off their rings: 35% was for work reasons, 29% were for job interviews, and 22% were out socializing.
Of the 22 percent of women who admitted that they took off their ring when they were out there kickin' it with their friends, 59 percent said they wanted to appear single, and 11 percent said it was because they wanted to cheat.