Kopi Luwak: Indonesia's rich cup or 'crappuccino'?
November 25, 2010 10:46 p.m. EST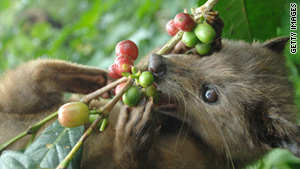 A palm civet eating coffee beans: the first stage in making Kopi Luwak.
(CNN) -- If you are a coffee lover you might be tempted to pay for a cup of the most expensive coffee in the world. Indonesia's velvety tasting brew, Kopi Luwak, gives new meaning to rich coffee. It can cost up to $50 per cup.
"The supply is very limited in the world that makes the price is very expensive," Kopi Luwak brand managing director Henry Fernando said.
The reason the supply is limited has to do with how the beans are initially processed. Just a warning here, it isn't pretty.
Kopi means coffee in Indonesian and Luwak is a wild Asian palm civet, a fury creature that looks like a cross between a cat and a ferret. The civet climbs the coffee trees to find the best berries, eats them, digests the berries and eventually out comes the coffee beans in its stools. Farmers then pick up the civet droppings and take the beans to a processing plant. Something about the gastric juices in the civet's stomach gives Kopi Luwak its unique flavor.
We do the cleaning process before we do the roasting. It's not a problem, and now the Kopi Luwak is certified Halal.
--Henry Fernamdo, Kopi Luwak brand managing director
"I do like it. Compared to other kinds of coffee, it has a more distinctive coffee taste and aroma," customer Yotje Hartono said as he sipped his coffee after watching the ritual of making a cup of the expensive brew.
At a Kopi Luwak Café in Jakarta the staff brings out a gold-lined cup, a hot thermos of water and vacuum packed sealed package of the Kopi Luwak. The package is opened and poured into the cup and then the hot water is poured in. It is stirred and then covered.