This is what I want for Christmas. Santa could use one too if the deer get sick!!
BEAR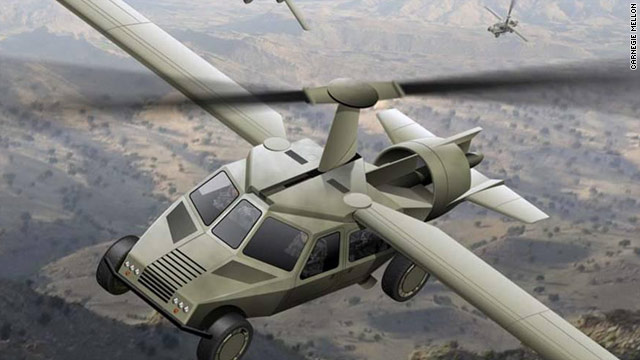 Now researchers, with some cash from the U.S. military, might be taking a step toward making these hovering vehicles -- seen in such diverse works as "Blade Runner" and "The Jetsons" -- a reality.
DARPA, the Defense Advanced Research Projects Agency, is awarding grants to scientists to help develop its Transformer program, which seeks to create a road-worthy vehicle that can take off vertically like a helicopter and fly.
This week, the robotics institute at Carnegie Mellon University was awarded a $988,000 contract to develop a flight system for the Transformer.
The institute has already worked on automated flying vehicles, which researchers say would be crucial to the success of a military craft that could go from an earthbound combat situation into the air seamlessly.
"The [Transformer] is all about flexibility of movement, and key to that concept is the idea that the vehicle could be operated by a soldier without pilot training," said Sanjiv Singh, a CMU research professor of robotics.
"In practical terms, that means the vehicle will need to be able to fly itself, or to fly with only minimal input from the operator. And this means that the vehicle has to be continuously aware of its environment and be able to automatically react in response to what it perceives."