Finally an explanation!!
Promiscuous women cause earthquakes, Iran cleric says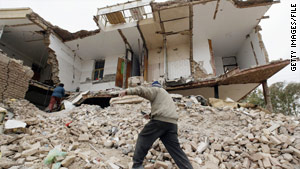 Survivors of an earthquake search debris in Bam, Iran, in late 2003. That quake killed tens of thousands of people.
Women who dress provocatively and tempt people into promiscuity are to blame for earthquakes, a leading Iranian hard-line cleric has apparently said.
The prayer leader, Hojatoleslam Kazim Sadeghi, says women and girls who "don't dress appropriately" spread "promiscuity in society."
"When promiscuity spreads, earthquakes increase," he says .